Dronehub docking station – high-end, heavy-duty solution for all-weather conditions. 
MONITORING HUB
The hub replaces the drone's battery in just 2 minutes thanks to a patent-pending auto-switching system enabling uninterrupted drone service 24/7.
The hub is equipped with climate control & a weather station – it can operate under ALL weather conditions making it perfect for outdoor use.
Intelligent Battery Management keeps the drone batteries at optimum temperature level, significantly extending their lifetime and performance during flight.
The heavy-duty specification makes it truly vandal-proof and theft-resistant for most demanding use cases.
Elon Musk's Starlink compatibility is already under development (provides 100% geographical coverage in Europe by 2022).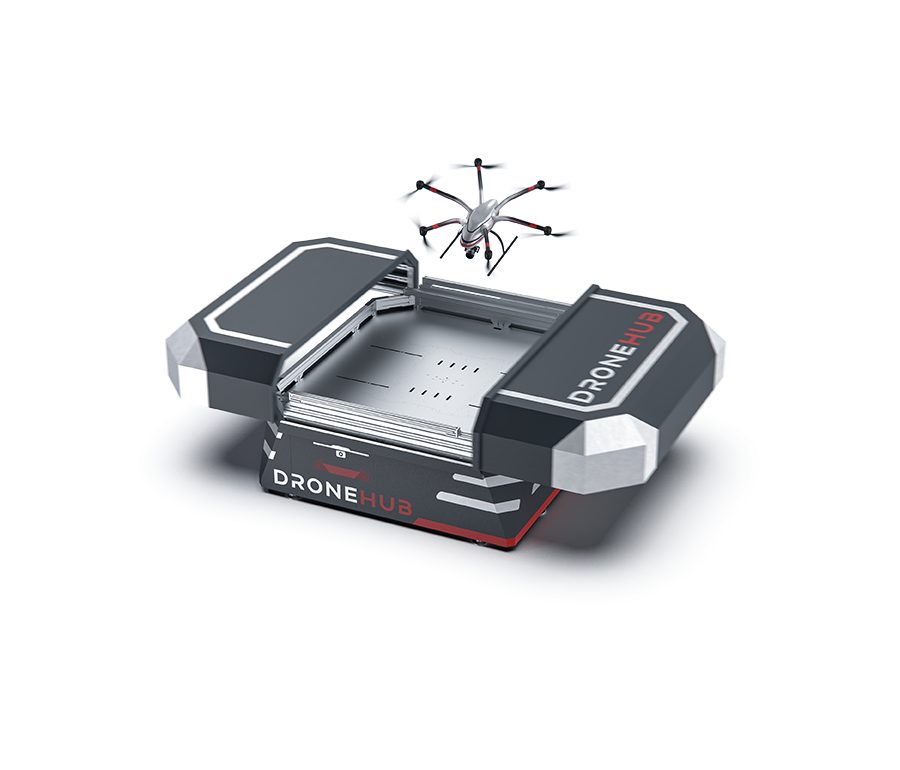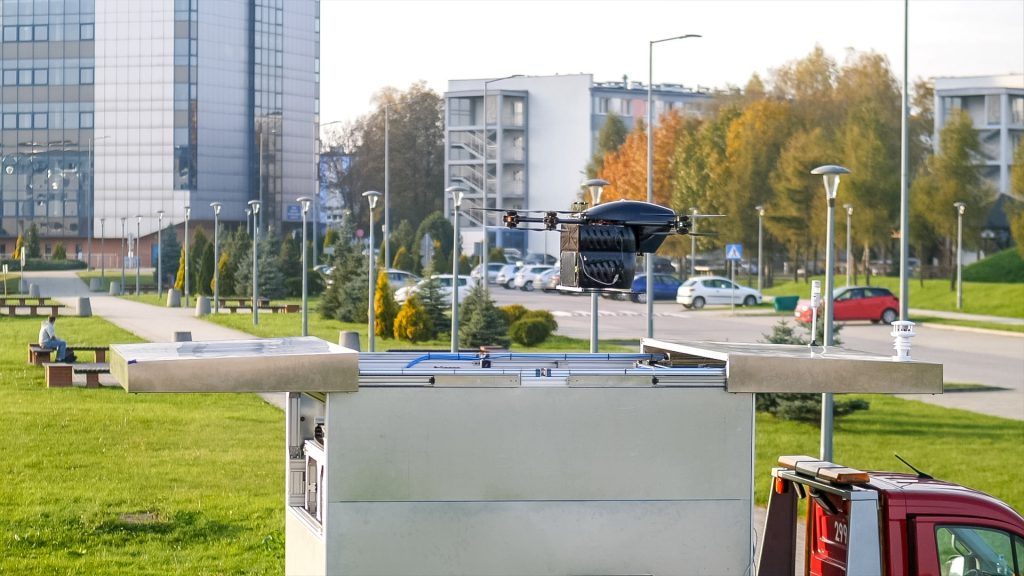 CARGO HUB
Designed as a "post-machine" to quickly deliver parcels from one hub to another.
Automated drone loading and unloading process.
Hub enables 24/7/365 flexible deliveries, including the option to deliver parcels in the evening or on Saturdays and Sundays.
Deliveries to alternative locations (in case customers are away from home and miss package delivery attempts).
Safe shipment method. Air delivery helps to avoid signs of loss or damage caused by traditional road transportation.
Enhanced level of security because of fewer conflicts between delivery vehicles and other travel modes.
Thanks to its reliability, the Cargo hub is designed for time-sensitive deliveries in the urban environment, such as medicine, and for deliveries that would be difficult to make using traditional vehicles.
Faster mode of transport suitable for transporting goods to any part of the world.
MOBILE HUB
It can be deployed ad-hoc at any location when drone services
are required.
The auto-leveling platform (patent-pending) enables all-terrain usage, including on a boat (for offshore projects).
Made to service the drone automatically – without human
intervention.
Thanks to the remote drone operations center, an operator
is not going to have to be in the place of completing a mission.
The hub enables drones to land and recharge without the need for a drone operator.