Dronehub – ground based power source for drone operations.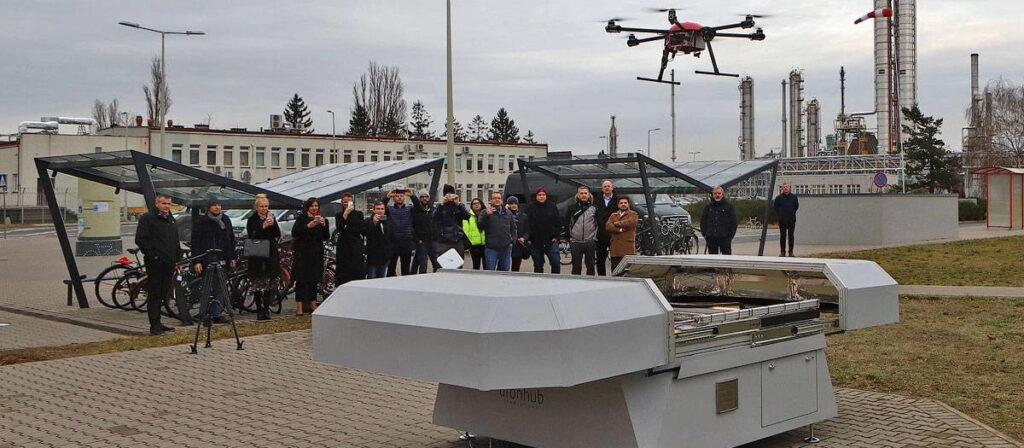 One of the biggest benefits of drones they provide is a new and unquestioned level of visibility, data acquisition, and more precision. The regular and constant patrolling missions can eliminate any discrepancies, detect any damages, or keep people away from potentially toxic and dangerous areas.
Drones can optimize the costs, get better data, and make daily operation duties faster.
UAVs allow companies to safely and efficiently monitor and manage tasks, including routine inspections and providing real-time views into challenging sites to fix and maintain any issues.
A DRONE FLIES AS LONG AS THE BATTERY LASTS
The operator must replace the batteries, WE have a DONHUB. It was designed to improve and automate data collection for monitoring. Dronhub shows great potential in situations where traditional monitoring techniques are expensive, inefficient, and in many situations impractical.
OPERATING IN AN EMERGENCY
The drone is able to fly for long periods and in any weather conditions. Dronhub helps maintain the battery management system and protects the drone against poor weather conditions with no human support.
AUTOMATION
Dronhub automation reduces the need for dedicated trained pilots, allowing faster and cheaper scale-up of the technology across many industries.
STAY IN ONE PLACE
Thanks to a Dronhub the drones could operate constantly and stay stationary for longer periods of time in one place.
WITHOUT DIRECT HUMAN INVOLVEMENT
Drone pilot is out of the loop, the system is self-sufficient
CLOUD-BASED SOLUTION
Cloud based software for reviewing inspection data during and after collection.
HOUSE IN HARSH AREAS
The docking station for drones is an automatic assistant that offers battery management, safekeeping, weather station, and many more.
WHY DRONHUB MAKES SENSE IN BUSINESS? KEY BENEFITS
Reduce workers' exposure in hazardous environments

Inspection of inaccessible environments where human control is not possible

Enable best decisions to improve quality

Reduce the cost and time required to gain access to dangerous areas

Quickly identify problems in locations that are not easily accessible