Summary of 2021 at Dronehub – part 2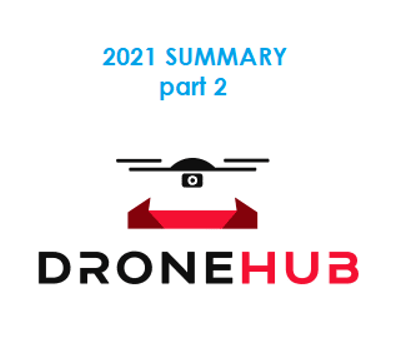 In the previous post (check it here) we have shared with you the most important projects and integrations we had worked on in 2021. The year 2021 is also a very successful 12 months in terms of relations, publicity, and structure growth of our company.
In the spring of 2021, we finalized talks with the American technology giant IBM and became the company's official partner – as the only drone company in Europe (read more here).
"Cooperation with IBM allows us to implement new concepts and algorithms necessary for the further development of our drone systems. By combining our industry know-how with IBM technology, we will be able to create new business and research opportunities based on next-generation AI technology for our drone operations, " says Vadym Melnyk, founder and president of Dronehub.
A strong accent on relational issues was also the accession (read more here) of Dronehub to the Global Unmanned Traffic Management Association (GUTMA), an association of entities related to the management of unmanned aerial systems (UTM) traffic around the world.
"GUTMA also creates its know-how for UTM systems through its members. We are glad to welcome a state-of-the-art company that is a leader in the drone-in-a-box sector to the association. Cooperation with Dronehub will allow our association to further modernize and strengthen the global UTM ecosystem, " said Koen De Vos, GUTMA's secretary general in June 2021.
What's more, our man – Sebastian Babiarz – was appointed as the vice-president of GUTMA. Thanks to such close cooperation and co-creation of GUTMA, we have a real impact on the legislative issues related to the UAV industry and the direction of its development. The partnership in GUTMA also allows us to directly contact and exchange experience with the largest aviation companies in the world – the association includes, among others Airbus, Boeing or DJI.
The significant public interest in our activity confirms the innovative and socially needed direction of the development of Dronehub. In 2021, over 200 articles, interviews and press releases about our company were published in Polish and foreign media. Check the most interesting examples of media coverage here.
"Such a huge media interest confirms that the projects and tasks we implement are pioneering and set the direction for the development of the drone industry. It is worth emphasizing that our activity aroused global interest, as evidenced by the number of publications on Dronehub in Asia, North America or even Africa, and as many as 9 languages ​​in which publications on our topic were published in 2021. " – says Nikodem Chinowski, Head of PR at Dronehub.
In recent months, we have marked our presence at the largest economic conferences and trade fairs in Poland and Ukraine. Due to the pandemic, some of the other events we planned to attend have been canceled or remodeled online. Fortunately, the temporary pandemic thaw allowed the organizers to organize several important events in the traditional formula. Thanks to this, we were able to take advantage of the invitations and take part in prestigious and important from the point of view of the industry discussion panels. Vadym Melnyk was a panelist at the Europe of the Carpathians conference (here), which is part of the Economic Forum in Karpacz (ex. Krynica) and at the European Economic Congress in Katowice (here) – both events are the largest annual economic events in our part of Europe. We were also present with our offer at the Defense Industry Exhibition MSPO in Kielce (here) and at the AviaSvit aviation fair in Kiev (here). Thanks to the traditional formula, it was possible to forget about sanitary restrictions, even for a moment, and build direct relationships – such events are always conducive to networking. Wherever formal and informal business relationships were built, we were present and we spoke out.
"Few companies in the initial stage of development – and Dronehub is still in this phase – have the opportunity to appear at the largest industry and international conferences and symposia. We are all the more pleased that our company is perceived as an important partner for talks, and its voice is very important for promoting and publicizing the increasing role of drones in our reality. Each invitation of Dronehub representatives to panels and conferences is a confirmation for us that both as a company and an industry, we are an increasingly important element of the entire Polish economic life, " says Adrianna Szymańska-Krowiak, Head of marketing at Dronehub.
Such high activity and involvement in many projects would not be possible without a well-thought-out and systematic expansion of the company's structures. In 2021, we not only strengthened our team with many specialists – primarily in the field of engineering (soft- and hardware), management and PR – but also opened a new office in Warsaw. From February 2021, our Warsaw branch is located in the Varso Place complex, which includes Varso Tower – the tallest office building in the European Union. Thanks to relocation (read more here), we are at the very center of the Polish business and innovative environment.
The events, projects and experiences that we learned from 2021 allow us to look at the next year with great optimism, but also with extraordinary excitement. It will probably be another intense 12 months for the entire economic bloodstream, and especially for the drone industry – after all, it is one of the most innovative sector of global economy.